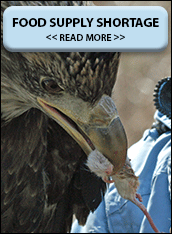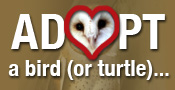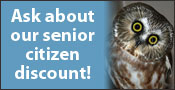 Video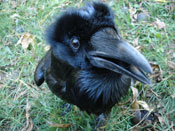 Horizon Wings was recently featured on an episode of Surely You're Joking, Mr. Science, on West Hartford Community Television, take a look!
You can also see more videos of Horizon Wings' birds on YouTube...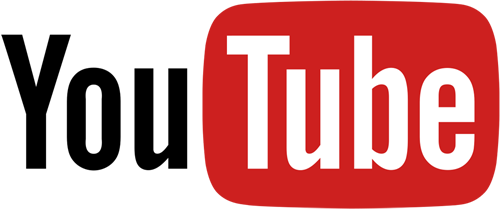 Horizon Wings is a non-profit Wildlife Rehabilitation Center specializing
in Birds of Prey. All of our funding is provided by
educational programs and donations.
Horizon Wings has several raptors that cannot be released back into the wild
due to their injuries. Fortunately we are able to keep these birds
at our center and, with a special permit,
use them for educational programs.
Horizon Wings' Photography Event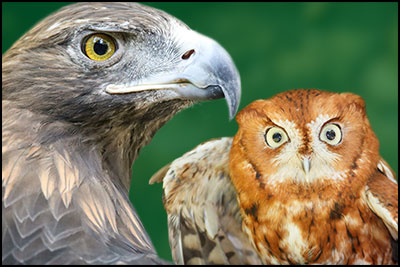 Back by popular demand Horizon Wings Photography event!
This event is limited to 15 photographers so register now by sending your payment of $125.00 to Horizon Wings, P.O. Box 238, Ashford, CT. Please include a phone or e-mail address so we can confirm we have received your payment; or use Paypal by clicking on the Make a Donation button located in the top right corner of our home page. Please remember to include a message stating you would like to register for the photography event.
When: October 18, 2015, 11:00am to 1:00pm
Where: Wickham Park Lotus Garden, 1329 Middle Turnpike W., Manchester, Connecticut
Admission: $125. By reservation only (non-refundable)
For more information, contact us at (860) 429-2181 or visit us on Facebook.
"Tell Your Friends That I Am Kind"
Horizon Wings has created a fund in the memory of a very special child, Catherine Violet Hubbard. Catherine was one of the children that lost her life at Sandy Hook. Catherine had a true love for all animals and in her memory we would like to share this love by using donations to this fund to bring live bird programs to children who may otherwise never experience this.
Please learn more about Catherine by visiting CVHFoundation.org.
Donations can be made by check or through PayPal on our website, please add a note designating the donation to go to Catherine's fund.
Where Are We Next?
Horizon Wings does a number of public programs throughout the year. We are also available for programs to private organizations and individuals.
Our upcoming events change frequently, so visit often, and we look forward to seeing you at one!
Here's where we are next. Contact the facilities directly for more information:

Sept. 12, 1:00pm
Raptor Weekend with Atka and Chrysos
1401 Hope Street
Bristol, RI
(401) 245-7500
Sept. 13, 2:00pm
North Haven Fair
209 Washington Ave.
North Haven, CT
(203) 239-3700
Sept. 19, 2:00pm
Frog Rock with Atka and Chrysos
Route 44
Eastford, CT
Sept. 20, 11:00am
Lighthouse Point with Atka and Chrysos
2 Lighthouse Road
New Haven, CT
(203) 946-8020
Sept. 26
10:00am - 3:00pm
Pipes in the Valley
Mortenson Riverfront Plaza
Hartford, CT
Oct., 18
11:00am - 1:00pm
Horizon Wings'
Photography Event
Wickham Park Lotus Garden
1329 Middle Turnpike W.
Manchester, CT
See ad at left for more information.
Recent Successes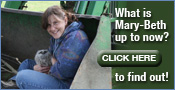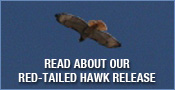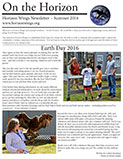 Download our newsletter, On the Horizon, for more information regarding our programs, events and how you can help.