Where Are We Next?
Horizon Wings does a number of public programs throughout the year. We are also available for programs to private organizations and individuals.
Our upcoming events change frequently, so visit often, and we look forward to seeing you at one!
Here's where we are next. Contact the facilities directly for more information:

October 2017
October 7th, 9:45 a.m. - 11:00 a.m.
Bird Brains, Scout Jamboree 347 Gilead St, Hebron, CT 06248

October 7th, 2:30 p.m.
Bird Brains, Canton library 40 Dyer Ave, Canton, CT 06019 (860) 693-5800

October 8th, 2:30 p.m.
Audubon Center Bent of the River w/Skywalker 185 E Flat Hill Rd, Southbury, CT 06488 (203) 264-5098

October 12th, 6:00 p.m.
Raptors at Fairhaven Library 182 Grand Ave, New Haven, CT 06513 (203) 946-8115

October 14th, 10:30 a.m.
Eagles at Ellington Farmers Market Arbor Park, Main St, Ellington, CT 06029 (860) 872-0121

October 21st, 5:30 8:30 p.m.
Horizon Wings Annual Owl Prowl 9 Sand Hill Rd. Ashford horizonwingsraptorrehab@gmail.com

October 28th, 10:30 a.m.
Bird Brains, Simsbury library 725 Hopmeadow St, Simsbury, CT 06070 (860) 658-7663

October 29th, 12:00 p.m. - 3:00 p.m.
Catherine Violet Hubbard Animal SanctuarySpooky Trees and Creatures of the Night Owls, vultures and more! 3 Old Farm Rd, Newtown, CT 06470 https://cvhfoundation.org

Recent Successes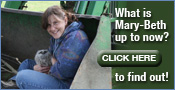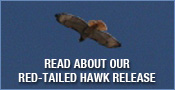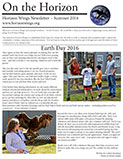 Download our newsletter, On the Horizon, for more information regarding our programs, events and how you can help.