Our Mission Statement
Our mission at Horizon Wings is to rehabilitate birds of prey for release into the wild in order to maintain their population, and to educate the community to enhance awareness of the environment.
It is our hope by doing this that we reach people of all ages and create the desire in them to help preserve our natural world.
Horizon Wings was formed in 2001 by Mary-Beth Kaeser as a 501C3 non-profit organization for the rehabilitation of raptors. Mary-Beth—shown below with Chrysos, a Golden Eagle—has been a Wildlife Rehabilitator since 1985.
Read more about all the program birds at Horizon Wings.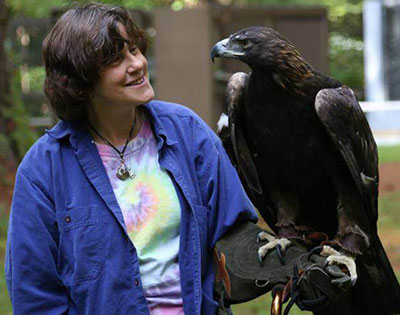 Board of Directors
Mary-Beth Kaeser
President
Jeanne Wadsworth
Vice President
Mona Cavallero
Secretary
Patricia Cebrelli
Ann Bourke, DVM
Jim Wrobel
Lori Young
Paul McKiernan