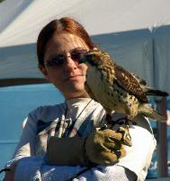 Mary-Beth with Chico the broad-winged hawk at the Glastonbury Apple Fest.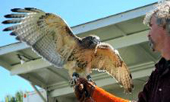 Alan with Dakota, the red-tailed hawk, at the Glastonbury Apple Fest.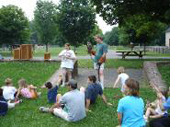 Mary-Beth and Alan with Oscar, the great-horned owl, at Northwest Park.
Events Calendar
Horizon Wings does a number of public programs throughout the year. We are also available for programs to private organizations and individuals.
We'll be posting more events soon, so visit often, and we look forward to seeing you at one!
NOVEMBER 2014
November 9, 2:00pm
Pomfret Audubon
218 Day Road
Pomfret Center, CT
Chrysos' Grand Debut — see story on Home page!