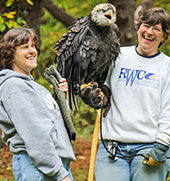 Mary-Beth (L) with Atka, Horizon Wings; bald eagle; and Jeanne (R).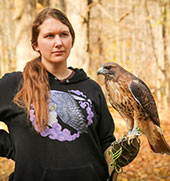 Brenda and Patrick, Horizon Wings' red-tailed hawk.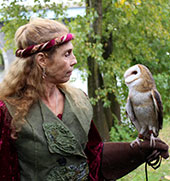 Patricia and Silo, Horizon Wings' barn owl.
Events Calendar
Horizon Wings does a number of public programs throughout the year. We are also available for programs to private organizations and individuals.
We'll be posting more events soon, so visit often, and we look forward to seeing you at one!
September 2016
Sept. 1, 1:00pm
Owls
at Frog Rock Rest Stop
Rte. 44
Eastford, CT
Sept. 10, 11:30am and 1:30pm
with Atka and Chrysos
Rhode Island Audubon Raptor Weekend
1401 Hope Street
Bristol, RI
Sept. 11, 2:00pm
North Haven Fair
North Haven, CT
Sept. 17, 10:00am
with Atka
South Britain Congregational Church
693 South Britain Road
Southbury, CT
Sept. 18, 11:00am
with Atka and Chrysos
Lighthouse Point Migration Festival
Lighthouse Point Park
New Haven, CT
Sept. 24, 12:15pm
with Atka and Chrysos
White Memorial Conservation Center
80 Whitehall Road
Litchfield, CT
October 2016
Oct. 22, 5:30pm - 8:30pm
Horizon Wings' 6th Annual Owl Prowl
More information on Home page.