Our Programs
As part of our educational programs, we bring some or all of our program birds to your event and talk about their lives, habits and ways to protect them. We also discuss what's involved in being a wildlife rehabilitator. We have done programs for events ranging from town fairs to birthday parties.
Follow the link to our Program Descriptions page for more-detailed descriptions of the variety of programs we offer.
We also offer educational programs and tours at our facility by appointment only.

Because we are a non-profit organization, we do charge a fee for our programs. The revenue from these programs goes directly to the care of the birds.

Please email Horizon Wings for more information, or call us at (860) 429-2181.
Video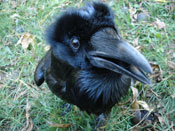 Horizon Wings was recently featured on an episode of Surely You're Joking, Mr. Science, on West Hartford Community Television, take a look!
You can also see more videos of Horizon Wings' birds on YouTube...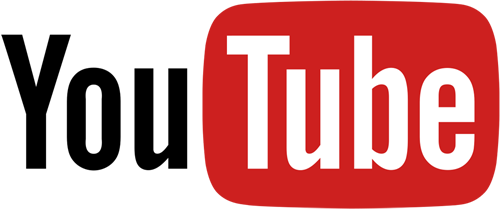 Find your joy and share it with others!
Horizon Wings was recently at Open Cockpit Day, held in the New England Air Museum at Bradley Airport in Windsor Locks.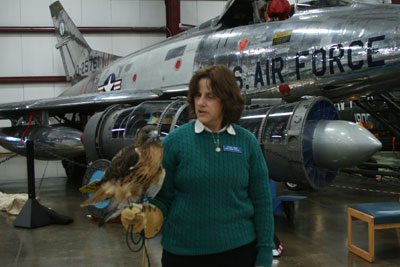 Mary-Beth and Dakota, the red-tailed hawk.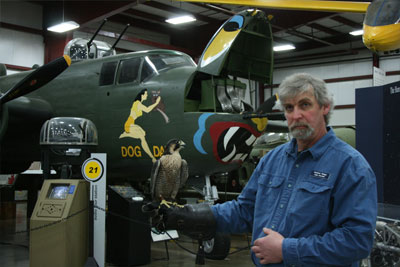 Alan and Athena, the peregrine falcon.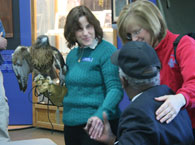 Mary-Beth met Connie Nappier, a Tuskegee Airman, at the show.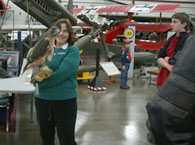 Mary-Beth and Dakota, the red-tailed hawk.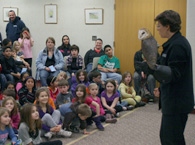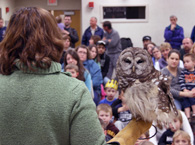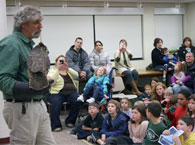 Jeanne and Silo (top-left), the barn owl; Mary-Beth and Emrys (top-right), the barred owl; and Alan and Oscar (bottom), the great-horned owl, at the Wallingford Library.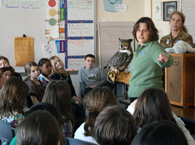 Mary-Beth and Emrys, the barred owl, in the 4th grade at Wapping School.